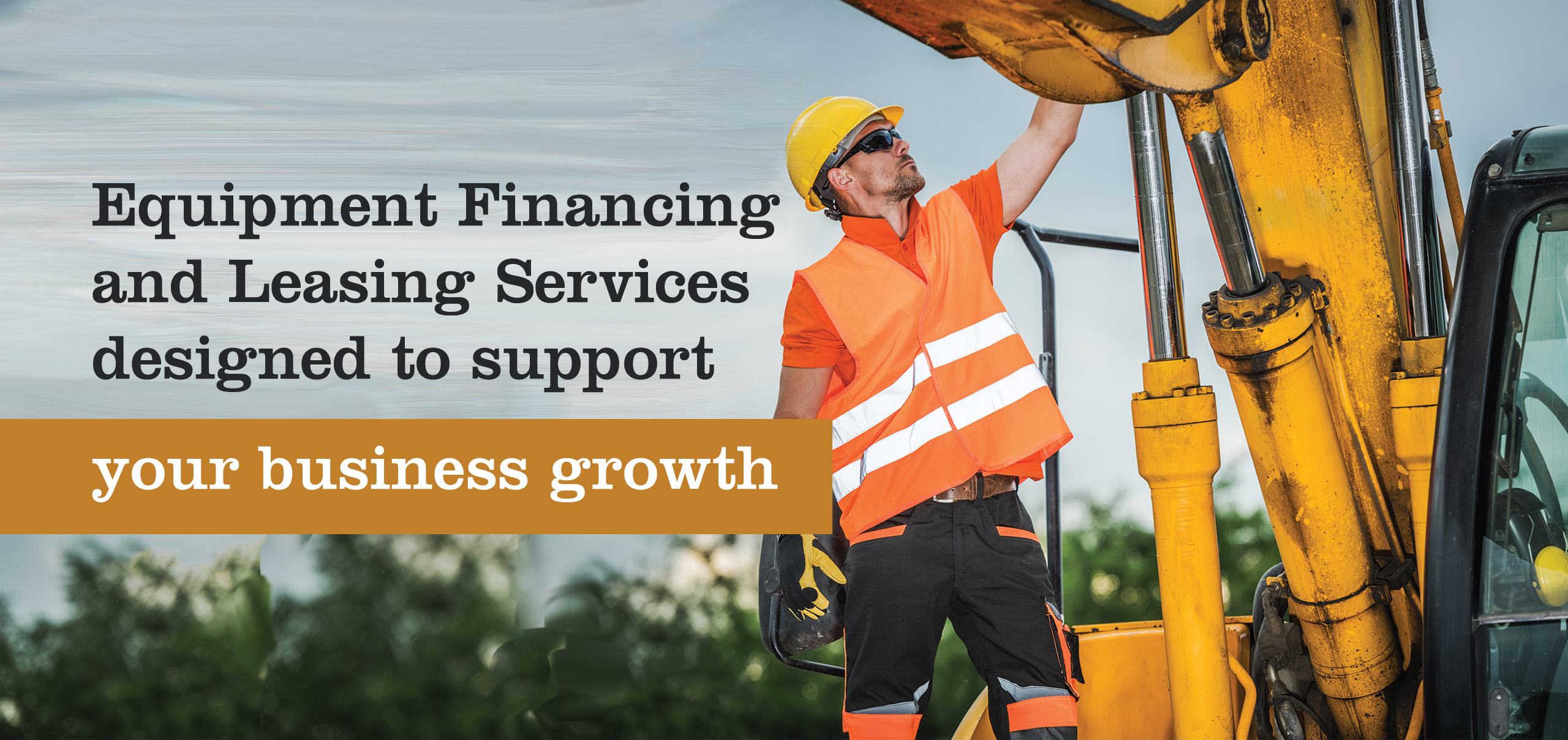 Expand your capacity and your business.
Equipment is essential for your growth and success. When partnering with Fidelity Bank Equipment Finance, you'll have access to a variety of lease and loan structures, local decision-making, minimal paperwork, and fast decisions. Most importantly, our team is focused on YOU – delivering speed, responsiveness, flexibility, and solid solutions.
Fidelity Bank has years of experience and a dedicated team ready with a financing solution to help you grow. Contact our team today to learn more.
Equipment Financing and Leasing Services
Custom financing based on your business needs
Fleet Management Services
Fleet Management Services are available through a partnership with a industry leader. This partnership allows us to assist companies in reducing operating costs and improving fleet efficiency. Through a complete suite of Fleet Management Solutions, Fidelity Bank is able to provide well-structured vehicle financing.
ESOP Equipment Financing
Equipment Financing for employee stock ownership plan (ESOP) run organizations is a Fidelity Bank specialty offering. Whether the company is currently an ESOP or transitioning to an ESOP, we have the expertise to assist in structuring Equipment Financing transactions to save the origanization money.
TRAC Lease
A TRAC lease (Terminal Rental Adjustment Clause lease) is a tax-oriented lease of qualified motor vehicles and trailers. This structure can be very beneficial as it provides a wide variety of options to improve and better manage cash flow and tax position.
Equipment Finance Loan
An equipment finance loan can help you acquire more, higher-end equipment that gives your business a competitive edge while not being limited to your current cash or credit line.
Capital Lease
A capital equipment lease or finance lease is treated like an asset on your company's balance sheet. A capital lease is more like owning property where you take the depreciation.
True Lease
A true equipment lease or tax lease is a multi-year lease in which the payment terms are comparatively lower than capital leases. The lease is called "true" because the lessor claims depreciation benefits and the lessee claims the lease payments as an expense.
Financing becomes more valuable when the right people surround it.
Meet Mark.
Mark Paetznick
Vice President,
Equipment Finance and Leasing
Strategic Financing:
Funding Automation on the Manufacturing Floor
Financing is often a question when it comes to increasing productivity, efficiencies, and competitiveness through equipment. Most manufacturing companies do not have the capital to spend or do not want to spend it out-of-pocket. Learn about financing options in this article initially published in Precision Manufacturing, by Mark Paetznick, Vice President, Equipment Finance and Leasing.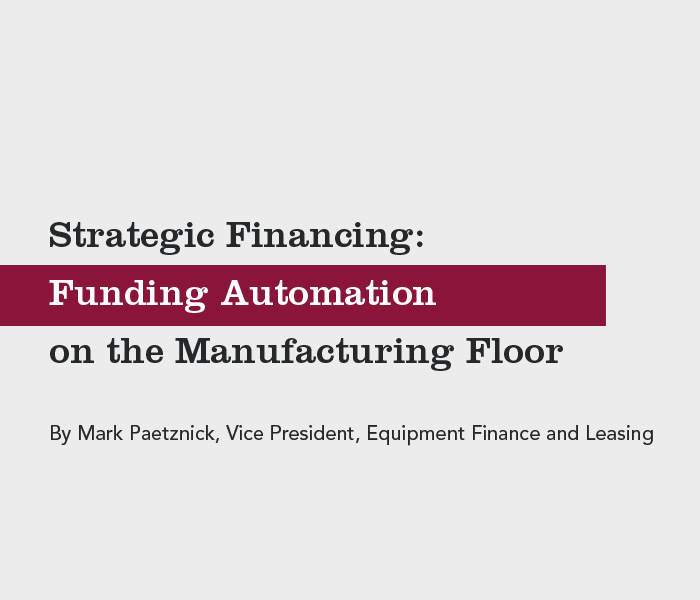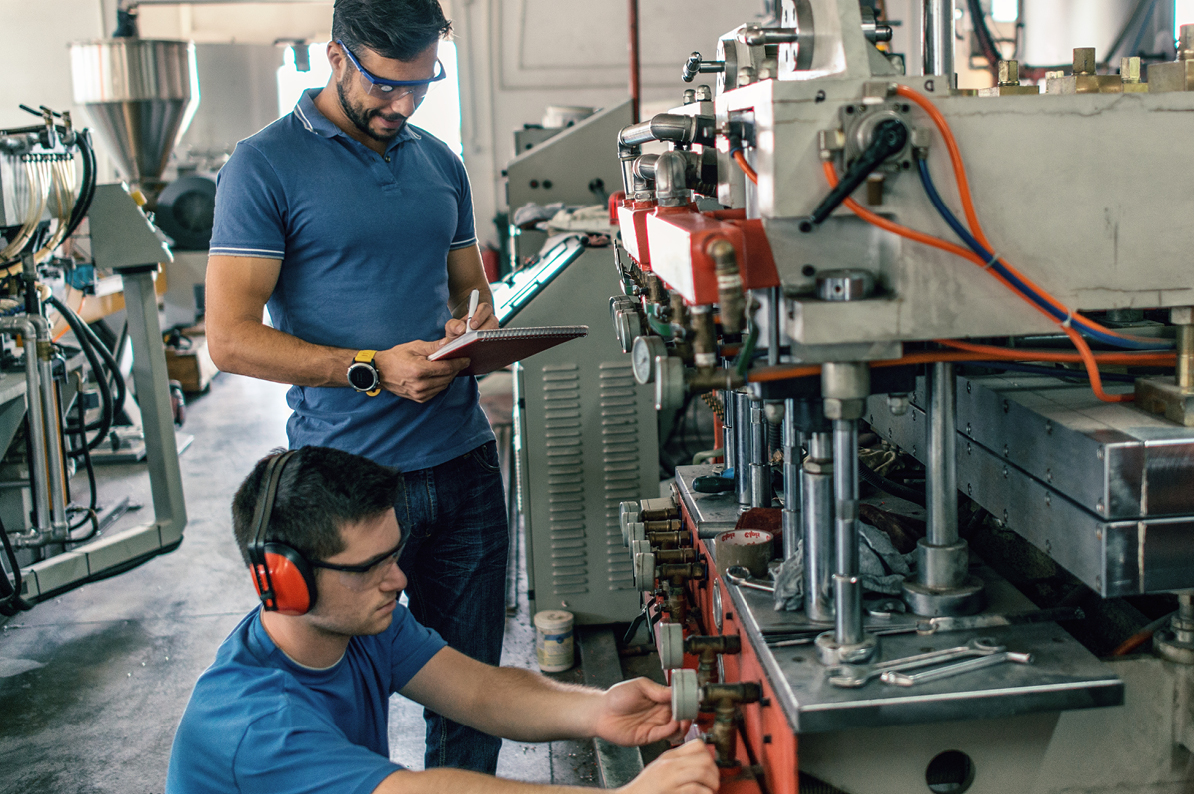 Preserve your cash & operating lines of credit
Cash flow and liquidity are essential to any business. Equipment financing loans and equipment financing leases can help you preserve your cash and/or liquidity instead of tying up your working capital on equipment. With equipment financing, your working capital can then be allocated to business expenses, expansion, and other business priorities.
Equipment financing tax benefits
Equipment financing presents your business with potential tax advantages. Our team can work with you to create a custom solution based on your business, business goals, and tax needs. Our clients say that what we do best is structuring customized financing and lease options that work for their businesses.