Strategic Financing: Funding Automation on the Manufacturing Floor
By Mark Paetznick, Vice President, Equipment Finance and Leasing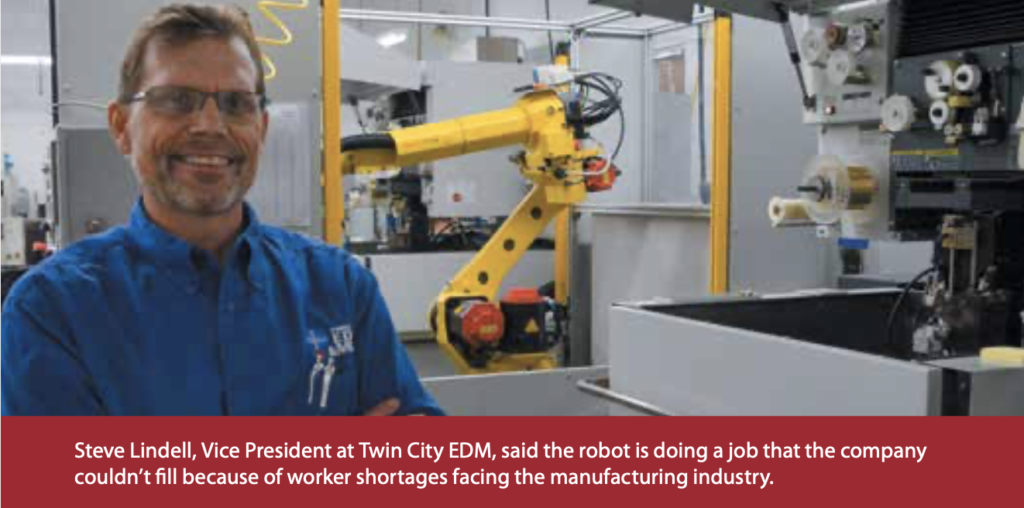 Article originally published in MPMA's Precision Manufacturing Journal January/February 2020 issue.
Automation is a growing trend in the manufacturing industry with manufacturers turning to it as a method for solving business needs.
Twin City EDM & Manufacturing, a machine shop in Fridley, with customers in the health care industry, recently invested in a robot to do a job that it couldn't fill because of worker shortages facing the manufacturing industry. "Finding labor was very difficult, so we decided to bring in a robot to do the job," said Steve Lindell, Vice President at Twin City EDM. "That robot is able to run multiple machines and work through the night."
Twin City EDM has a few robots doing very labor-intensive work, such as running the wire EDM, and it plans to invest in more. "We'll add another robot to do our milling work, with the goal of having this robot be flexible and move from job to job," says Lindell.
Tolerance Masters, a Circle Pines-based contract manufacturer for the aerospace industry, purchases new CNC machines regularly to help meet their customers' increasingly tight turn-around times.
"We don't produce a high enough volume that would justify investing in robotics," said Jim Mackin, CFO and Controller of Tolerance Masters. "Instead, we've been buying new CAD and CNC machines every year to address the needs of our customers."
Mackin says the company purchases rather than leases the equipment because it makes sense economically. There's also a fairly quick return on the investment – sometimes in as little as 18 months – and the company can get the benefit of the depreciation. What's more, state-of-the- art equipment can be used for multiple utilities as the business expands.
Whatever the reason, automation can help manufacturing companies increase productivity, efficiencies, and competitiveness. Whether it's robotics, artificial intelligence (AI), or simply additional machines, automation can equate to big gains for manufacturing companies.
Financing Options
But of course, the big question is how do companies pay for the investment?
The good news is there are options. If a manufacturer wants to simply write a check for the full amount of the new automation equipment, they can. However, most manufacturing companies do not have the capital to spend or do not want to spend it out-of-pocket.
Instead, they look to purchase or lease automation equipment through financing. Manufacturers have several financing options available when looking to invest in a new piece of automation equipment.
Current Banking Relationship: This option is typically straightforward and simple since an established relationship exists and the bank is usually familiar with the business and business assets. As a result, there is generally less documentation and work required to determine eligibility as compared with a new bank relationship. While there aren't many downsides to financing through an existing banking relationship, some businesses choose to use their equipment financing needs as an opportunity to diversify their financing relationships. That is, they maintain the relationship with their bank, but choose to work with a different financial institution to finance new equipment.
Bank-owned Leasing Company: These companies are specialized divisions within a bank that are usually able to get financing completed quickly. Most bank-owned leasing companies hold the transaction for their own portfolio. This is an important point when a company finances equipment. Some equipment finance companies will sell the transaction unbeknownst to the customer and suddenly the company is unaware of who owns or finances the assets on the manufacturing floor. This can be problematic as not having a point- of-contact eliminates the company's ability to know who to contact if they need to renegotiate equipment financing agreement terms or have questions relating to the contract.
Vendor Financing: Getting financing from the company that manufactures the equipment or the dealer selling the equipment is a good option for a few reasons. First, a vendor financing program may offer a subsidized interest rate, which could save money over the life of the loan. In addition, they may take a higher residual position on a true lease, providing lower monthly payments over the term of the lease. This can be advantageous if there are no plans to buy the equipment at the end of the lease. It's always a good idea to ask the vendor if they offer financing and if so, to investigate the terms. Depending on the situation, vendor financing could be a good option.
Independent Equipment Financing Company: Another financing option is to use an independent equipment financing company. This may be a viable option for some, as these companies operate independently from banks and may be able to offer financing solution that a bank will not.
"Finding labor was very difficult, so we decided to bring in a robot to do the job. That robot is able to run multiple machines and work through the night."

Steve Lindell, Vice President, Twin City EDM
Other Considerations
Along with choosing the right financing partner, there are other considerations related to financing new automation or other equipment.
One key consideration is how to structure the financing. Sometimes it can take several months after a new piece of equipment is ordered to get it manufactured to specifications, installed, and producing to its full capacity. In this case, it may be important to consider a step-up payment structure where the initial payments start lower and increase every year thereafter as the equipment operates more efficiently and at capacity.
It also makes sense to consult with a tax expert to determine if the purchaser can fully utilize the depreciation benefit. Depending on the answer, a knowledgeable equipment financing company will help structure the most beneficial financing product, which may or may not be a "True Lease."
Relationships
It's important to work with someone who understands the business, its goals, and the reasons why an investment is being made into equipment. Lenders will need to know if the equipment is needed to help with one customer and the duration of that customer contract. They also will want to know plans for the equipment once the contract ends; will the equipment be sold or used for a variety of applications? This level of business understanding will help a lender offer the best financing solution based on the situation.
What's more, sometimes automation technology is so new – think 3D printing when it first came onto the scene – that the financing company needs education before being comfortable financing it. While they can do their own research, a company can add value in the education process by providing any research that has already been conducted within the organization.
It is fair to say that automation is here to stay. As manufacturing companies consider new equipment to improve manufacturing processes or to help with labor shortages, there are many financing options. Collaborating with a trusted expert is key to identifying the best financing solution for equipment investments.
About the Author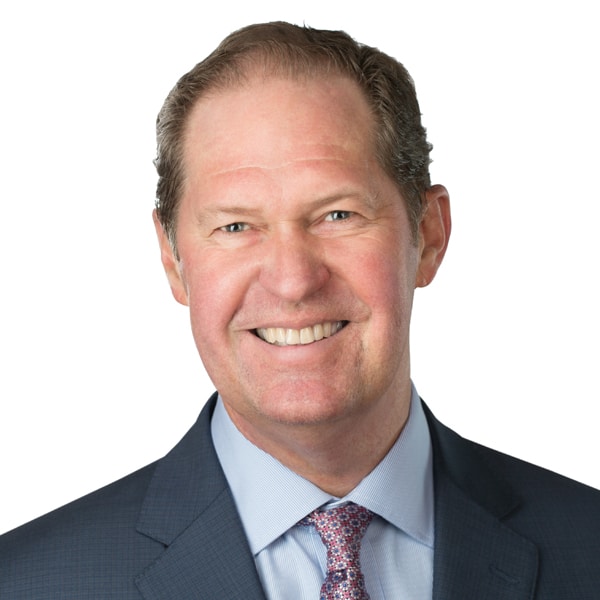 Mark Paetznick is vice president of equipment finance and leasing at Fidelity Bank. With over 28 years of extensive experience in equipment finance, Mark understands the nuances of credit analysis, structuring transactions and negotiating documents. An out-of-the-box thinker, Mark has a knack for finding solutions that fit his clients' immediate needs, while also supporting their long-term goals.